Ace Hotel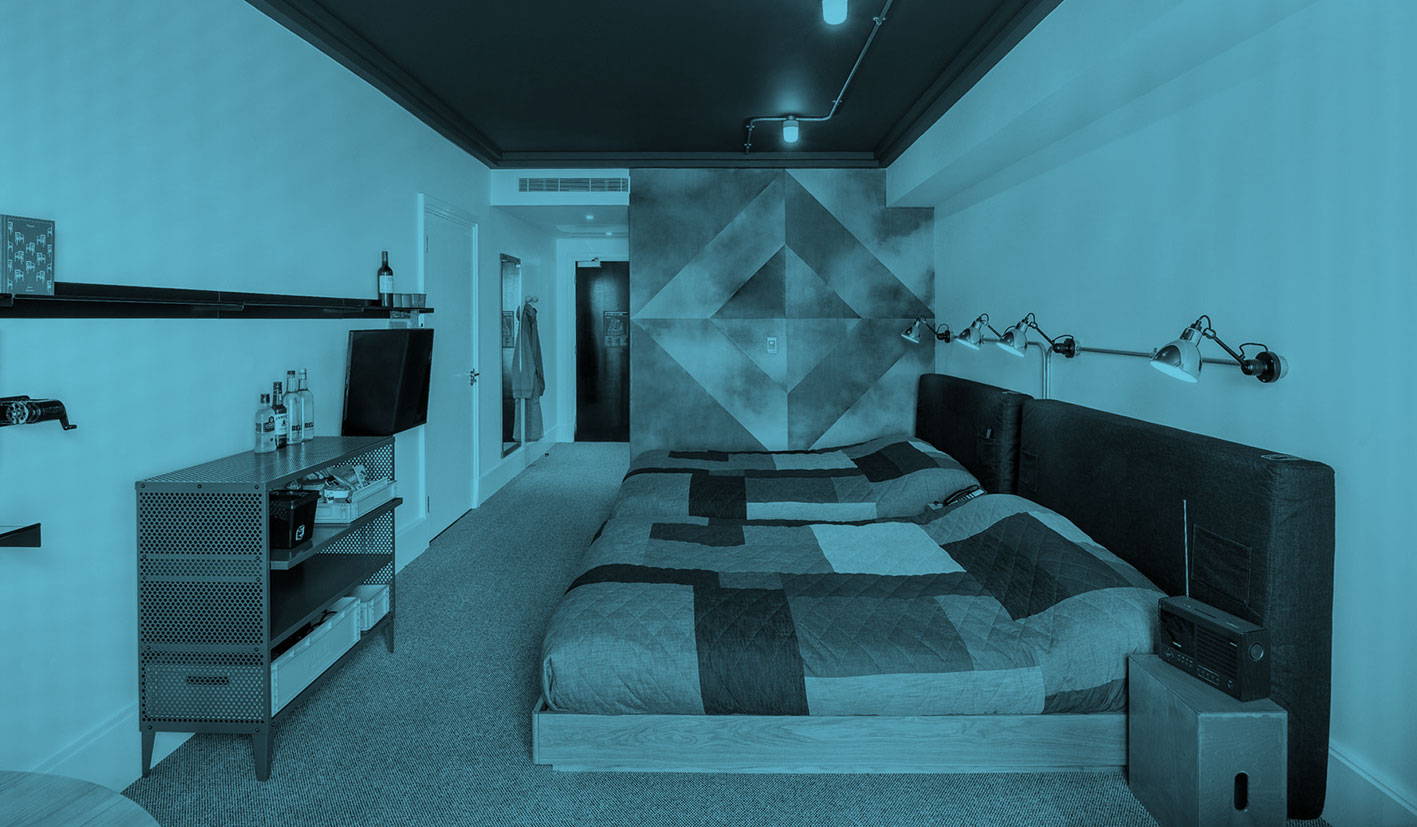 It's September in Shoreditch, London. Outside the Ace hotel a girl stands in a rare blaze of English sunlight, sucking a red lollypop in a blue fur coat. With a millennial self-consciousness, both she and the gorgeous cascade of potted plants that welcomes guests are perfectly aware at how picturesque they are in the afternoon's golden hour. This type of lush visual oxygen, with its deep curation, may or may not appeal to the weary traveler. However, once a cold-pressed concoction from the juice bar or a latte signed with a milk heart are in hand—more likely, one feels gratitude that someone has considered every detail.
The lobby of the Ace functions as a communal living room / office for the local and visiting creative class. Macbooks turn long tables into orchards of artificially glowing apples, tended to by girls and boys with Stan Smiths and fresh haircuts. Whenever a guest walks through this veritable garden of freelancers, it's par for the course that all look up to watch the show. Jet-lag helps the exhibition feel more like a weird dream; that it could feel natural is testament to hotel's accomplishment in connecting with the new generation of travelers.
Rooms are simple, "fun" in the way an older aunt might use the term for a quirky outfit, and extremely comfortable. A.P.C. jean patchwork quilts cover low beds. Big pendant lamps illuminate thoughtfully curated publications. Generously sized cocktail ingredients and sometimes a guitar or record player let guests know they're welcome to try their hand at a private party. Innumerable design flares (sweatshirt robes, camping mugs, classic books) give the distinct feeling that a wised-up generation of tech-savvy Martha Stewarts have found their calling, and they're doing a great job at it.
"This all-in-one atmosphere is a signature of the Ace, and seems to be appreciated by its clientele."
The Ace's restaurant, Hoi Polloi, has the rare distinction among hotel eateries as a place one would go equally for pleasure, or convenience. Ottolenghi-style salads are bright antidotes to grey skies or moods. At dinner, the ability to roll from restaurant to bed is highly underrated; it's important to take advantage. This all-in-one atmosphere is a signature of the Ace, and seems to be appreciated by its clientele. Its hidden treasure of the hotel is a tiny flower shop that smells like a forest in Maine. Delicate Ranunculus, Peonies, and dusty colored English Roses drip romanticism. It makes any visitor want to have friends in London, simply for an excuse to buy one of these moody bouquets. BG