Andaz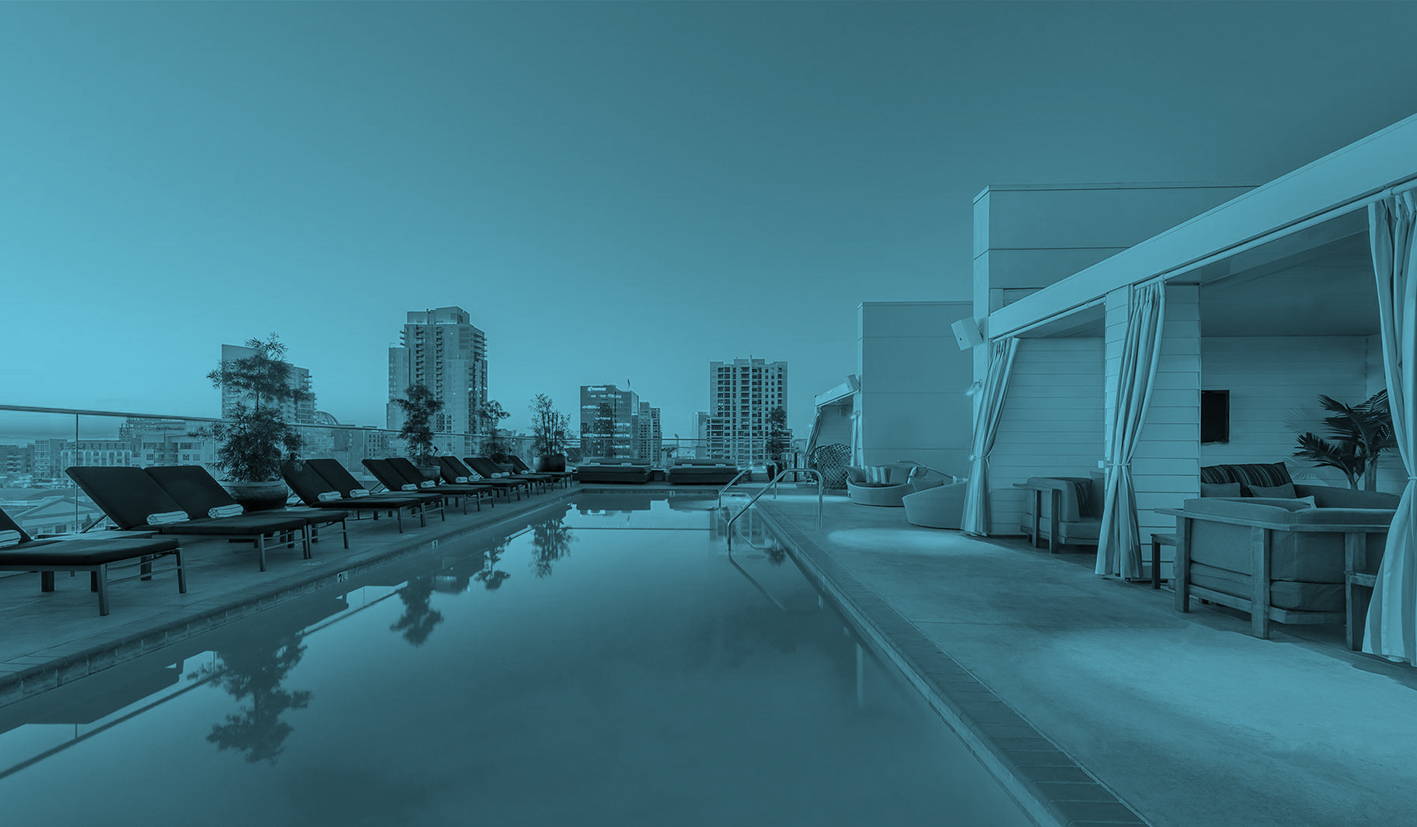 Gone are the party days when the DEA considered San Diego the Bogotá of methamphetamine. Indeed, although the city shares the busiest border in the world with wild and lively Mexico, there's a feeling of wholesomeness guarded by the US defense industry that drives the local economy. The fluctuating health of this sobering force also dictates the ebb and flow of the city's music and nightlife scene, where places tend to come and go. One of them was The Ivy, a hotel that hosted the best club in town. The Hyatt recently bought and rebranded it as an Andaz, which maintains some signs of its fun past while smoothing out the Ivy's edge.
"Rooms are photogenic thanks to high ceilings and atelier-like double hung windows, but are undermined by coy paintings and plastic desk lamps."
Six imposing pillars sheathed in interwoven leather, evocative of a Bottega Veneta hobo bag, welcome the guests. Receptionists pour generous glasses of pinot grigio and nero as complimentary diversion while processing check-ins on first-generation iPads and 15" Dell Inspirions. Gray rectangular prisms with leather surfaces form a side wall and add dimension to the atrium, where yet more leather is in the center; coffee-tables and sofas becoming little hurdles that narrow the pathway from elevator to exit. A hurried bellhop bumps into one, hurting her shin; a man follows suit, immediately laughing with his friends to preserve face and assuage pain. Only minutes later, another klutz trips on the same spot and falls face-down. Everybody turns their heads away in a shared sense of sympathy and unease.
The use of leather doesn't spread to the rest of the hotel, and one wonders if the leitmotif is not the material but rather a general heedlessness. Rooms are photogenic thanks to high ceilings and atelier-like double hung windows, but are undermined by coy paintings and plastic desk lamps. The more interesting ones feature orgiastic king-size bunk beds, paired with peek-a-boo bathtub areas that might inspire libidinous thoughts in even the most frigid couples. Audiovisual assistance should be avoided however, as with Internet speed lingering at 0.9 mbps it can only stutter pleasurable pursuits. On the rooftop a nosy guest approaches a table of name cards to see what's going on. A woman reactively stands in front of him to block the way. When she realizes the man is just curious, she reveals the event is reserved for a legal convention. "Ah, a pond full of sharks!" the man quips, looking towards the swimming pool. "No. No sharks. These are only patent lawyers. They don't bite."  AP