El Palauet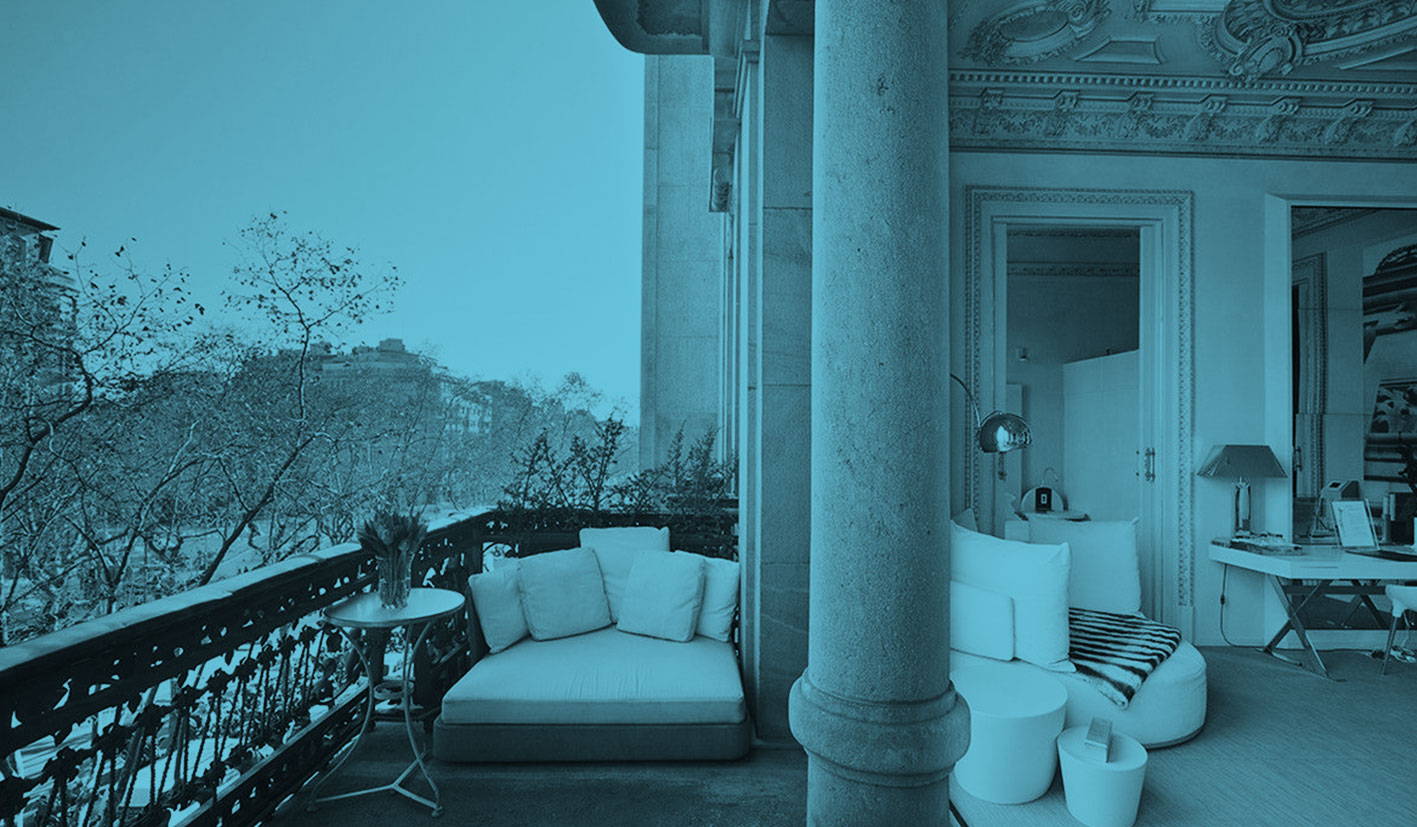 "Ah, the little palace!" the perspiring head of a taxi driver mouths the words "El Palauet" through his slightly skewed rear-view mirror. Just to hear the name is enough to bring a passing joy to his face; and the location, more mansion than hotel, is most certainly a temporary palace of one's own, where quiet pleasures are achieved while floating above Barcelona's bustling and exclusive Passeig de Gràcia. Whether this means ordering a paella for one at a glass table set for eight, or repeatedly testing the 'rinse' function on the room's Toto toilet, is a choice which guests can make for themselves.
With all its charms though, it does seem a waste not to share this sort of space with others. These are, after all, two-bedroom two-bath units that beg to play host to a bevy of international friends. A fictional group of twenty cultural curios could be comfortable among the soaring and elaborate stucco ceilings, advanced multicolored lighting systems and grandiose panes of glass masquerading as windows.
"Who is that there?" one might say, of the woman on the vaguely pornographic, circular white suede sofa with brooding auburn hair. "Oh, that's Jane from Los Angeles, an ill-tempered art advisor to the stars." "And him there, flipping through Condé Nast Traveler?" "That's Paolo, a Portuguese psychiatrist with an anxiety disorder, who invented a regionally famous fad diet."
But sometimes the reality of being in a palace alone can be less thrilling than the fantasy of living-room foreplay with new friends. These apartments are so impossibly technologically advanced in the strangest of ways that even turning on the bathroom light can sometimes unfold into a surreal quagmire. With no visible wall switch, the obvious choice is to resort to a large rubber foot pad in the closet, which engulfs the bathroom in a quick, red LED splash. After giving up hope of finding illumination through more conventional sources, red transforms unannounced to a confident blue.
It is difficult to tell if this is meant to be entertaining, therapeutic, neither, or both. Equally baffling is a nondescript cream-colored cylinder on the living room table—a telephone hiding in plain sight. Thankfully, most of the room's functions can be controlled by electronic touchscreens mounted periodically throughout the unit. Although they do function like the iPad's less graceful cousin, they ultimately serve their purpose. And after a few hours, technological anxieties subside and most of this begins to feel natural, (though why there is a secret glass door, reachable from the toilet and leading to the kitchenette, is anyone's guess). JR