Grand Hotel Rimini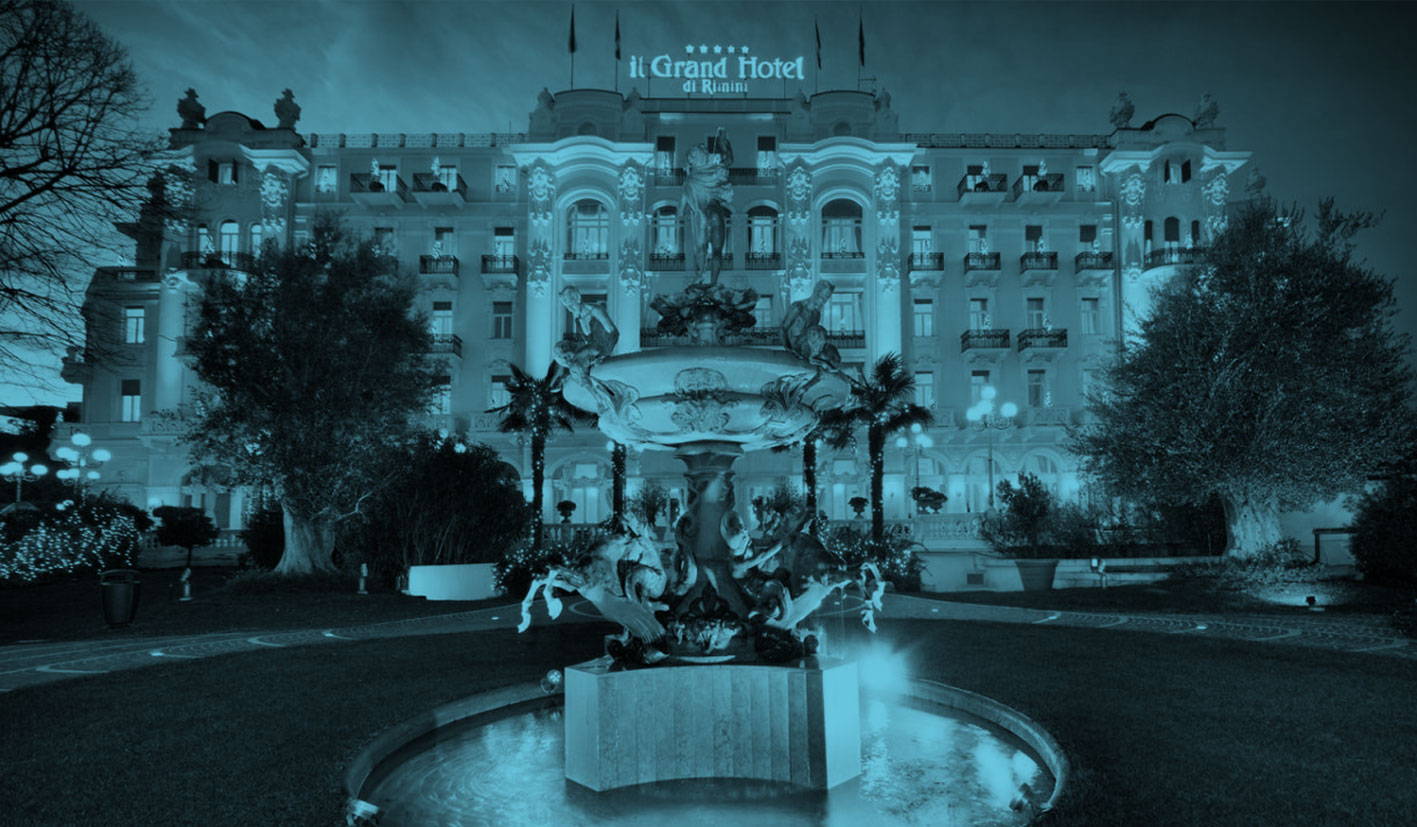 To educated Europeans, Rimini is still known as an all-inclusive sea destination to avoid. Too keen on cultivating tired neoclassical tastes, they'd rather go to the Amalfi Coast or Venice in the shadows of Goethe's and Byron's Grand Tour. Sure, Rimini's snot-green sea and zoneless architecture make up for an ugly coastline. But like oysters that hide precious pearls under their rough shell, Rimini is home to an earthy citizenry whose verve make more illustrious places seem stale.
The ivory colored Grand Hotel has always been the best overlook to enjoy the town—not so much for its marvelous position, but rather for the awe that the hotel and its guests inspire among the locals. Everything associated with the Grand Hotel has the aura of an exotic and unreachable fantasy; native Federico Fellini once wrote, "When I read descriptions in novels that did not quite raise my imagination to the heights I thought they should I would pull out the Grand Hotel, like a scene shifter in the theatre using the same backcloth for every situation. Crimes, rape, mad nights of love, blackmail, suicide, torture, the goddess Kali: everything had to be set in the Grand Hotel."
For better or worse, the Grand Hotel is not as fraught with drama as one might wish or fear. Nevertheless, the staff will make sure to entertain curious guests with life stories overheard during years of service. It's not that they are being indiscrete—the hotel is made to be a piazza where light gossip comes naturally. This is clear in the hallways, when one realizes that sounds and voices coming from the bedrooms are public domain; indeed, the rooms' blandness and walk-in closets persuade the guest to dress up and spend their evening in the splendor of the shared spaces, to see and be seen.
During the daytime the Grand Hotel stretches its realm beyond its fenced garden. At the private beach club, the chirping of tourists walking up and down the shoreline is accompanied by the leather-skinned coconut seller chanting "cocco bello! cocco fresco!" all while under the burning sun, non-judgmental waiters keep the Campari Spritz coming at a steady pace. And when the beach becomes too overwhelming, Roman ruins, Renaissance buildings and rustic taverns will attract the art buffs and bon vivants alike.
Back at the hotel many are still sitting at the terrace drinking, talking, and distractedly listening to a stoic pianist play Schubert, while outside nearby clubs blast derivative techno for partygoers. A well-dressed man, now aware and amused by the ongoing cacophony, leans in on his neighbor, and paraphrasing an old author cheerfully says, "Ah youth, it's all a carefree sowing!". GP