Hotel Grande Bretagne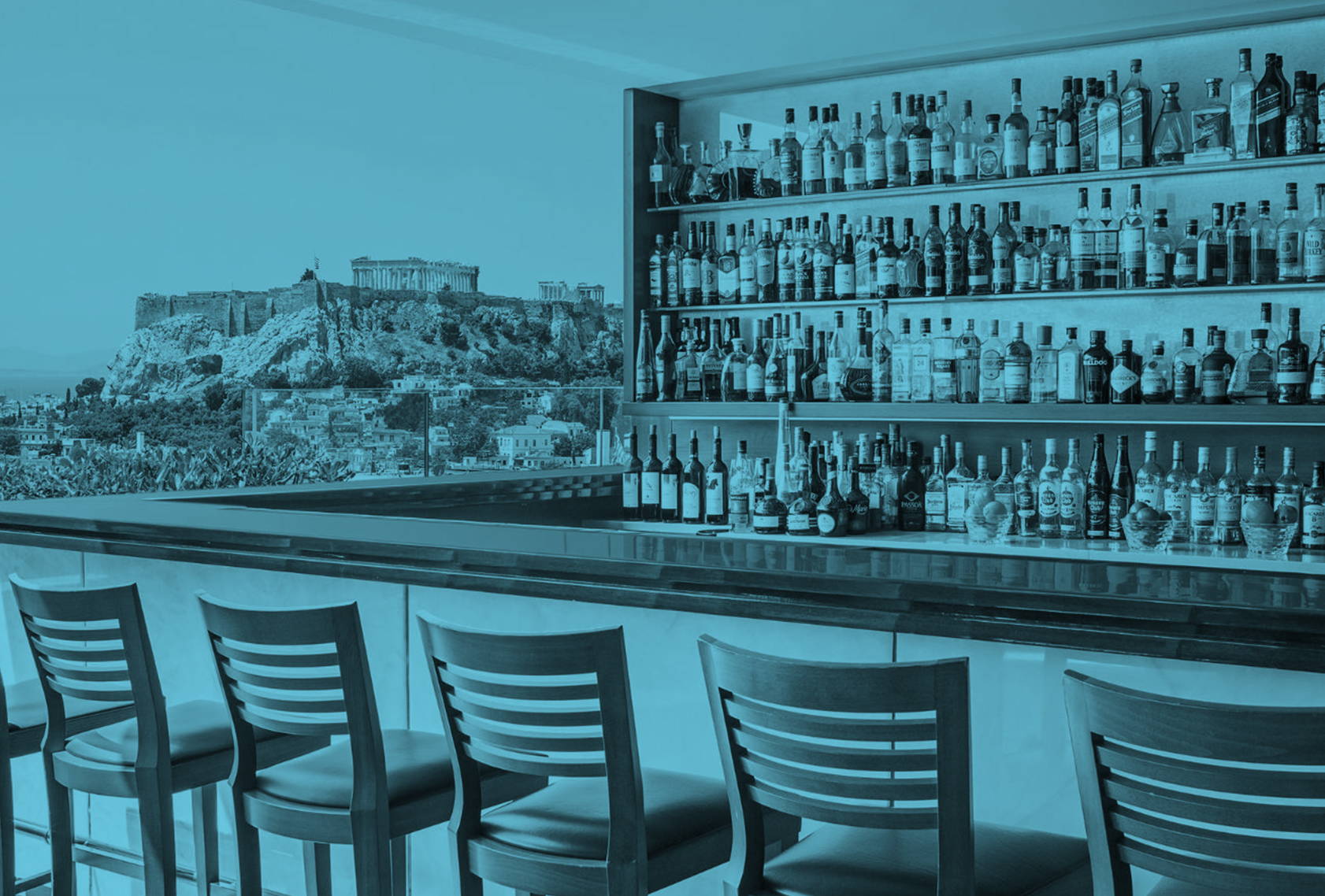 Rising up over Syntagma Square, the scene of endless news reports, the Hotel Grande Bretagne is a lavish, old-money island of veined marble, indoor palm trees and white balconies among the organized chaos of downtown Athens as though in a turbulent sea. On Saturday night a screeching crash momentarily draws guests to their curtains, at which point a tow truck driver can be seen abandoning his vehicle across two lanes and sprinting to chase down a Fiat 500 whose driver attempts to escape via an alleyway. Within seconds the roads are jammed and a symphony of car horns fills the muggy night air, while he and the woman scream obscenities at one another—two things the Greeks love to use are their car horns and swearwords.
Perhaps "old money" is the wrong term though, since there isn't much of it in evidence here. The kind of hotel that was, for better or worse, once a formality, if not necessity, for the upper classes is now at best a luxurious getaway, and at worst a weekend-long competition between grossly ambitious guests. It's easy to become tired of the narrow appraisals from the Moncler set every time you use the elevator, for instance, the up-and-down looks from sunburned tourists who all, as Don DeLillo in his novel 'The Names' describes them perfectly, look "deeply unhappy."
"But it's at breakfast when the Grande Bretagne breaks away from the pack; the panorama from the rooftop terrace is one of the best views not just in Athens, but surely all of history."
Not that the Grande Bretagne itself should give them any reason to; this is a genuinely wonderful hotel that stays long in the memory. Alexander's, named after the centerpiece 18th century tapestry of Alexander the Great which hangs behind the bar, serves an Old Fashioned you won't forget in a hurry unless you choose not to pace yourself. Likewise the eponymous cigar lounge and walk-in humidor enclosed within the hotel's inner garden, which exhales a colonial mixture of Cuban smoke and heavy nighttime musks with an assortment of drinks that wouldn't look out of place in Finca Vigía.
But it's at breakfast when the Grande Bretagne breaks away from the pack; the panorama from the rooftop terrace is one of the best views not just in Athens, but surely all of history. It hardly seems real to be gazing at once upon the Hill of the Muses, the Acropolis and the Panathenaic stadium known as Kallimármaro ("Beautiful Marble") which ripple and glow like a painting come to life, allowing yourself to contemplate the blue Saronic Gulf in the distance, and what secrets it might still hold, while you order coffee. JD