La Valencia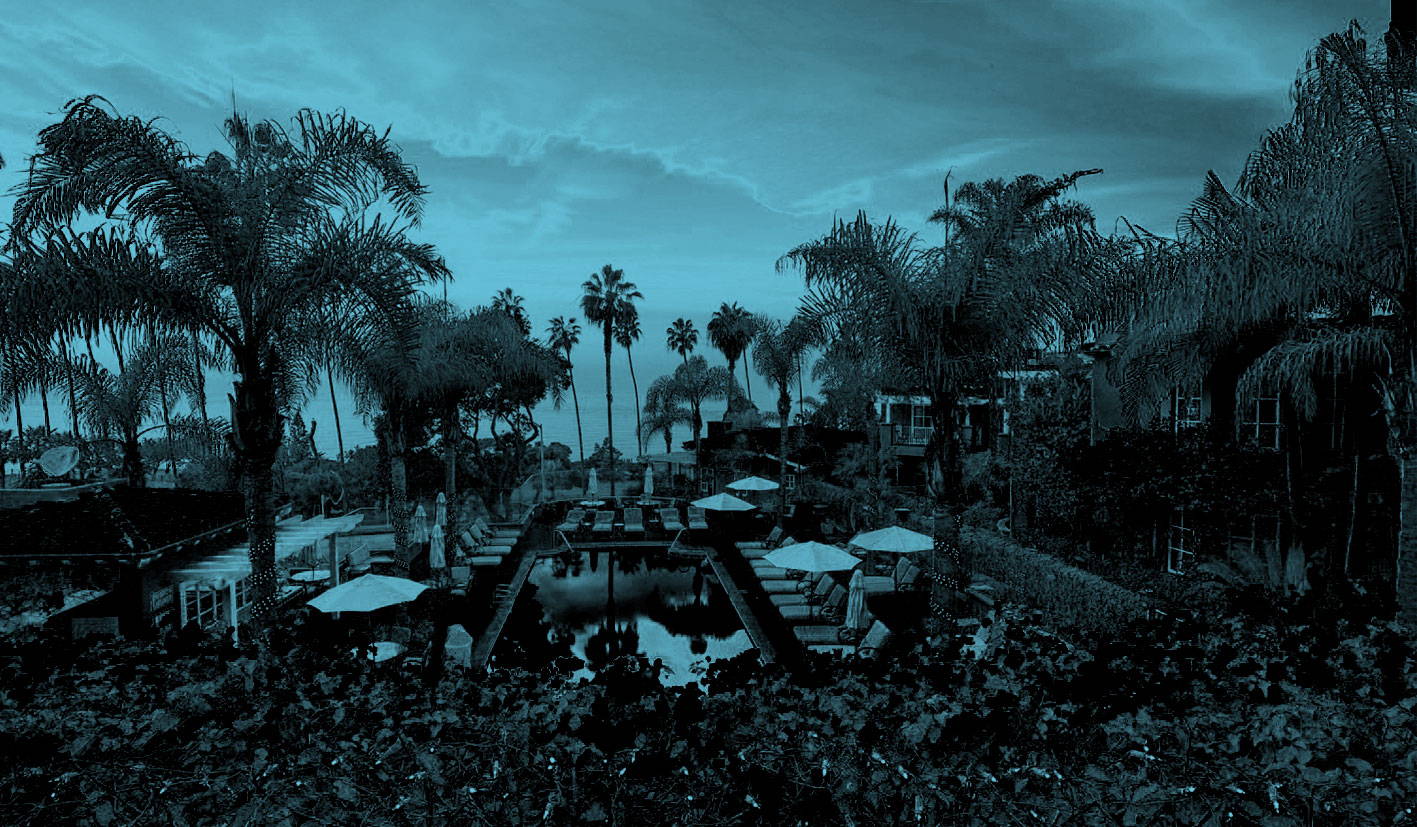 Few people have such an intense belief as Californians that positive psychology is the foundation of a flourishing life. For them, being as sweet and helpful as resources permit is a credo that at times can unwittingly result in droll scenes and impersonal interactions. At La Valencia's restaurant THE MED, an enthusiastic waitress is heard saying, "Grauburgunder? Great choice, sir. That is definitely my favorite wine!" "Ma'am, here's the Pinot Grigio. It's goes very well with the Paella. It's my favorite!" To every new order the waitress attaches personal endorsements. No one seems much concerned with the truthfulness of her comments.
"La Valencia, it seems, is where Angelenos leave the spiel and hurly-burly behind to cool off from the Hell.A. heat, and the talk is of the watermelon salad with burrata and the perfect breeze coming from the Pacific Ocean."
The weekend exodus to La Jolla, the jewel of the SoCal Riviera, is an historical one: Raymond Chandler, Gore Vidal and Norman Mailer often hung out at the hotel's Whaling Bar, where Gregory Peck used to enjoy his off-hours after his performances at the La Jolla Playhouse. Even though the mythical drinking hole was recently closed to make room for a more common, Paris-inspired café named La Rue, the hotel still maintains its ties to Hollywood celebrities. Maybe its sloped structure, satellite bungalows and castle-like appearance remind them of their beloved Chateau Marmont. Both hotels were built during the Roaring Twenties, but whereas the Chateau's gothic glamour exudes a kind of irresistible danger, La Valencia, with its Spanish Colonial Revival style, hanging gardens and prudish café is the embodiment of wholesomeness—a precious guarantee against finding oneself on the front page of The National Enquirer.
Yet like a sibling who tries to imitate the sexiness of its evil twin, the hotel has recently begun using La V rather than its whole name. (This is also due to an ongoing issue with a Californian neighborhood that claims the exclusive rights to use of 'Valencia'—alas, the irony!) Thus, La V can now stand for voluptuous, vixen, viper, vamp or any other allusive vanity one can conjure up. But there is no need for affected vocabulary strains. La Valencia, La V, or The Pink Lady (as others like to call it, referring to the building's characteristic color), already sits victorious on one of the most beautiful patches of land America has to offer. Does a sublime landscape compensate for a dull atmosphere? After all, there aren't many places where one can swim with sea lions, and get to spot a Kardashian right after. AP