The Langham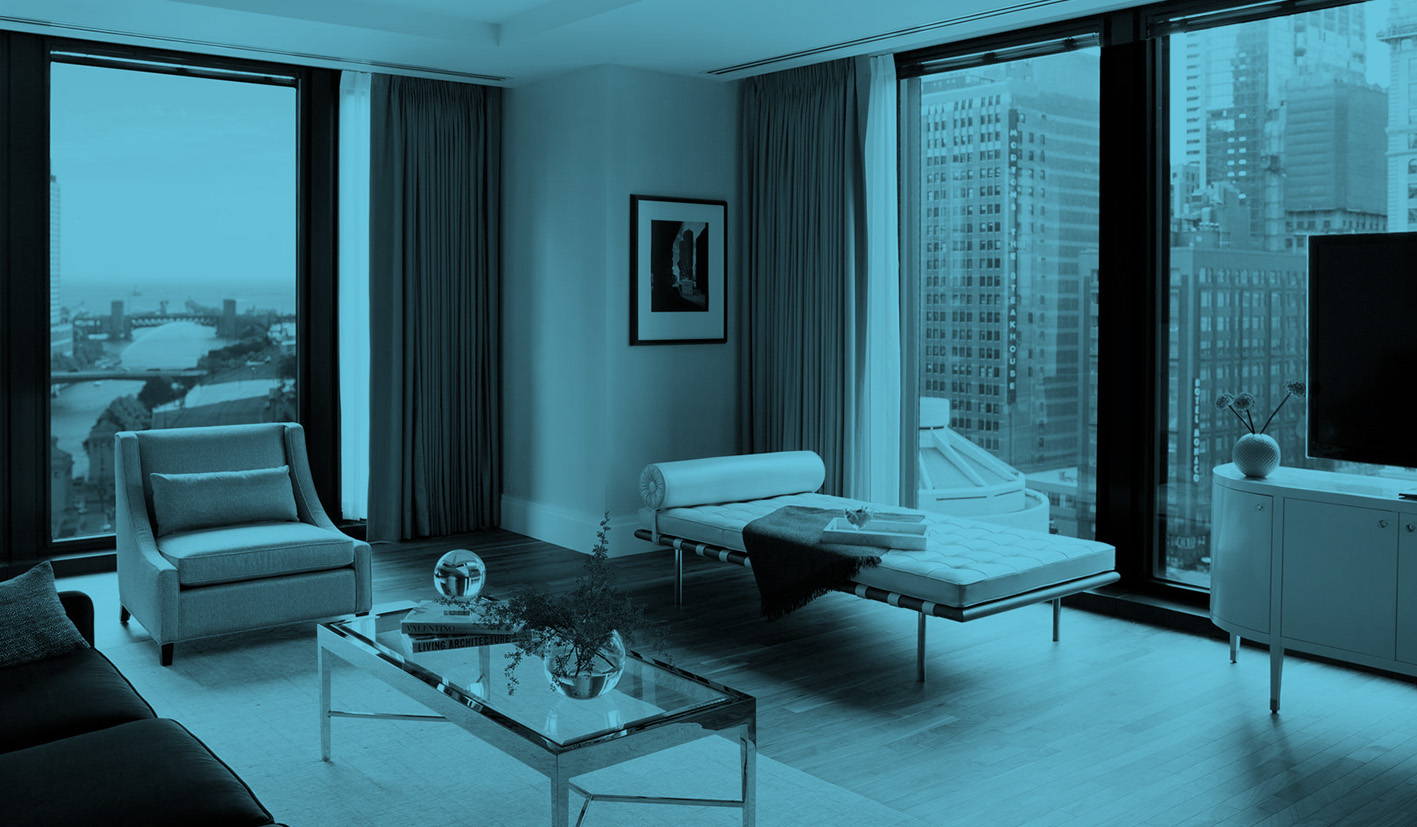 330 N Wabash Ave, Chicago, IL 60611, USA - ☏ +1 312-923-9988 - www.langhamhotels.com
Amidst all the deep-dish pizza and the beer-laden sloughs of the Mid-Western city of Chicago, Al Capone's headquarters square off with Mies van der Rohe's last American construction, the IBM building, home to the newly opened Langham Chicago. Offices, accessible through a separate entrance, still occupy the majority of the structure. But not to worry – the Langham is more pleasure than business. Everything about the Langham feels airy and elevated. From one of the spacious rooms on the twelfth floor, the ice breaking on the obsidian colored Chicago River feels miles away from this tranquil perch in this glass-and-steel castle in the sky.
But this placidity is anything but jejune – "God is in the details," Mies used to say, and this is entirely true at the Langham. Take the hotel restaurant Travelle, whose chef Tim Graham earned a Michelin star at TRU. The repeating circular design of the ceiling pendants harmonizes with the scalloped bays of the iconic Marina City towers visible through the restaurant's generous windows.  
Like picturing the cast of Downton Abby on the set of Mad Men, certain imports from the original Langham in London, built in 1895, are somewhat out of character in this modernist monument. A writer's desk replete with vintage typewriter in the corner of the club lounge (Sir Arthur Conan Doyle, Mark Twain and Oscar Wilde haunted the original hotel), and high tea ($50 a head, served with a selection of amuse-bouches that includes an ethereal foie gras mousse and, incongruously, a rather pat maccaron) make the Gershwin arrangements of the live piano player in the hotel's Pavilion café seem altogether contemporary.  
For such a new hotel, the clock-work-like service is impressive, and minor kinks are addressed at the drop of a hat (two engineers promptly arrived when the thermostat acted up). The stream of local guests on "staycation" for Valentine's Day obscured the presence of what would be the hotel's target demographic – the international business elite. One conversation overheard at the concierge desk – like a scene from Ford Maddox Ford – reveals what a stay at the Langham might be like once they start to come: "Welcome back, sir," the concierge greets a guest. "You were here last time with the couple… the wife played Chopin. From the Ukraine?" "No, Lithuania." "Ah yes, we spoke of Vilnius." As John Dowell, Ford's wistful narrator in The Good Soldier, might respond, "The world is full of places to which I want to return." The Langham is certainly one of them. JB