The Seelbach Hilton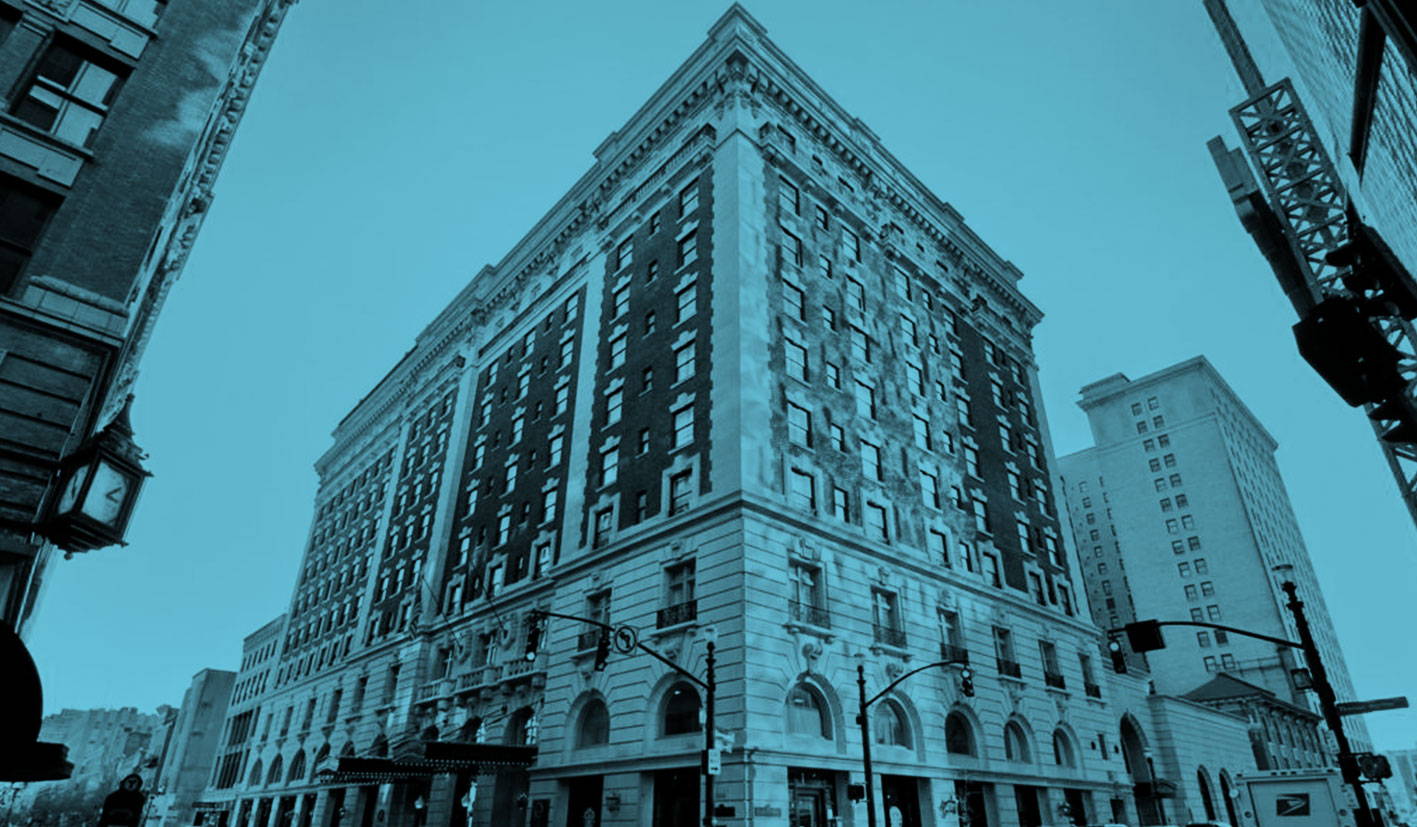 Despite the growth of tourism and cultural projects in downtown Louisville in recent years, the city still seems to breathe the inescapable air of ghost towns and faded grandeur, haunted by the memories of a bygone era. As one pushes the brass and mahogany doors aside and enters the grand old lobby of the Seelbach Hilton, the sense is not so much of visiting a historic hotel as walking into a time capsule; since its opening in 1905 it may have fallen somewhat from its status as a permanent fixture on the international jet set's calendar, but the hotel's public spaces have retained all their original charm and impressiveness.
The same cannot be said for the guest rooms, which unsurprisingly feel more or less the same as those in any Hilton in the world. For a pre-flight airport stopover or brief work commitment this kind of corporate chain anonymity can truly feel like a blessing; while staying at one of the finest and most notable hotels in the US, however, it's hard not to feel let down. Some things never change, but perhaps it would be better if they did—a 68 degree room-temperature feels almost cruel, and certainly a long way from cozy. On a more serious note the skin color of the cleaning staff is a queasy reminder of the region's history, and its present.
While many hotels try, for obvious reasons, to beef up the significance of their own story, the Seelbach has no such need; among the plethora of powerful and famous guests who have been patrons over the years, perhaps its proudest friendship is with F. Scott Fitzgerald.
Despite his forcible ejection by security after a boisterous night of drinking in April 1918, Fitzgerald is said to have immortalized the hotel by renaming it "The Mulbach" in The Great Gatsby, in which an entire floor is rented for the wedding of Tom and Daisy Buchanan. Indeed, as guests glide over the awe-inspiring marble floors of the Seelbach's public spaces, a word one often hears is "Gatsby." Not bad for an artist's legacy, but the constant references probably have less to do with literary history than with one of the hotel's three restaurants, recently opened and named after the man himself.
Gatsby's on Fourth is lit by faux gas lamps, apparently meant to evoke the pre-electric glory days of its patron artist. The effect is decidedly less exciting, more pastiche than celebration, much the same as the "Kentucky Benedict"—a bewildering rehash of a classic breakfast that adds nothing whatsoever to the original, other than some kind of bourbon-flavored liquid that deserves to be forgotten. And how better to wash its memory away than with the real thing, which can be found in abundance in the Old Seelbach Bar. Kentucky's finest export (depending on your opinion of fried chicken) stands waiting in some of the most beautiful bottles, but even here their aura is tarnished sadly by several sports bar flatscreens and a large neon sign which buzzes the words: "Now Sipping 44 Premium Bourbons". JD