Wildcarpets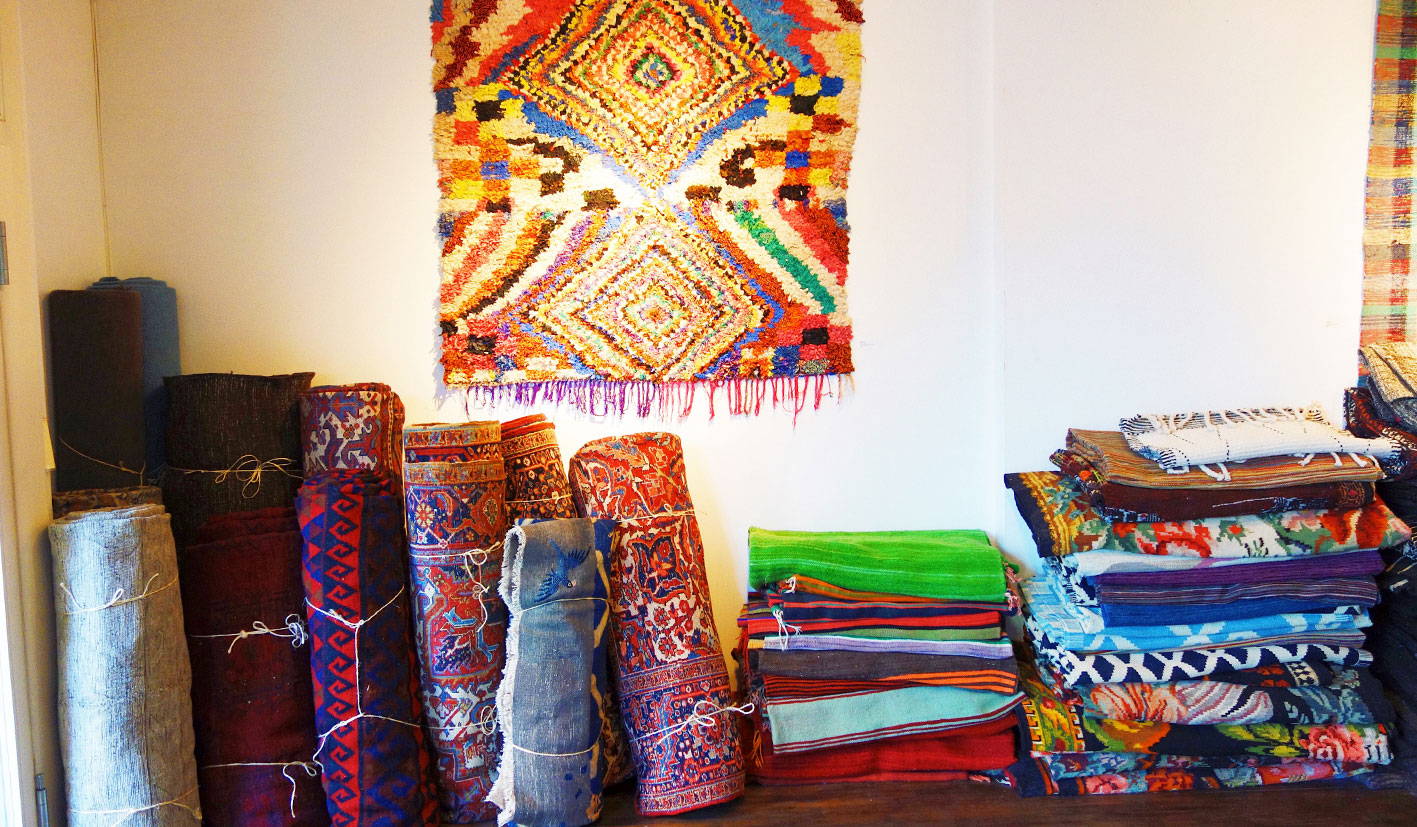 Your birthplace lies at the foot of the Swabian Alb, which is certainly not a place directly connected with the world of carpets. How did your great affinity for them come about?
Already as a student I tried to earn my own money on trips, and to think of ideas that connected beautiful or romantic things. I came upon the idea of amber, which the Germans had sold to the Romans via the Amber Road—blonde hair and amber were the export hits of the Germanic traders in Rome—but it was only possible to buy amber in Gdansk after the fall of the Berlin Wall. During my first visit to Tibet I'd noticed that amber is of enormous importance for Tibetans, because Baltic amber also reached Tibet and China in ancient times via the Silk Road. I purchased unprocessed amber and worked it on Lamma Island in Hong Kong, with a friend of mine who owned an amber cutting shop for the Tibetan taste. I tried to sell these pieces in Tibet, but also in Mexico and in New York, for example. In Tibet the difficulty was in trading amber for cash, which was almost impossible. The Tibetans were very interested in bartering though, and as I'd been travelling in this cultural area since 1983 I already had a well-functioning network, so the amber became my first currency for buying carpets.
So how did you start making money?
Already on the second trip to Tibet I had some, because after trading the carpets for amber I'd sold them in Berlin at the flea market on June 17th, immediately and without any hassle, and also through the daily newspapers. The interest in antique Tibetan carpets was great. The main market for these carpets was in Hong Kong, which was still British at that time and had a large number of people who were trying to do business with the half-closed China; there was no Shanghai or Beijing as we know it today.
"Many of these people were bored and some of them collected things like old porcelain, furniture, carpets and textiles."
It was very interesting for me to buy carpets and textiles in Tibet at that time and to sell them in Hong Kong, fast and maybe a little too cheap. But the profit was always good enough to keep up my small trade and to learn a lot, so these were the beginnings of the flying carpet merchant.
Was there any certain place which you particularly appreciated?
That was without a doubt the Snowland Hotel in Lhasa, which I regret to say no longer exists today, as it was demolished by the Chinese in the course of an "old town renovation". I'd rented the top floor of the Snowland with a handful of colleagues and we merchants sat together in the evening showing our new acquisitions and discussing them. We were all, in this international round, of one vintage: the year of the dragon. I received visits from merchants who, like me today, owned a shop somewhere in the world, but only had a week or a few days to buy carpets, so it could happen that I bought a carpet in the morning and sold it to a New York gallery owner in the afternoon. I sent many of my pieces to Kathmandu to have them cleaned and restored; in Kathmandu there was a very active expat community and it was very popular at that time, the luxury hotels always fully booked. Tibetika sold well and Tibet was very strongly represented in the media all over the world. My mentor in Kathmandu was Bob van Grevenbroeck, and it's fair to say that he made the Tibetan carpet presentable. Bob was a great stroke of luck for me, but unfortunately he died far too soon. But I was also aware that this mood would not last forever in Lhasa and Kathmandu, so I soon collected the pieces which I thought were very special, and had them sent to my apartment at Rosenthaler Platz in Berlin.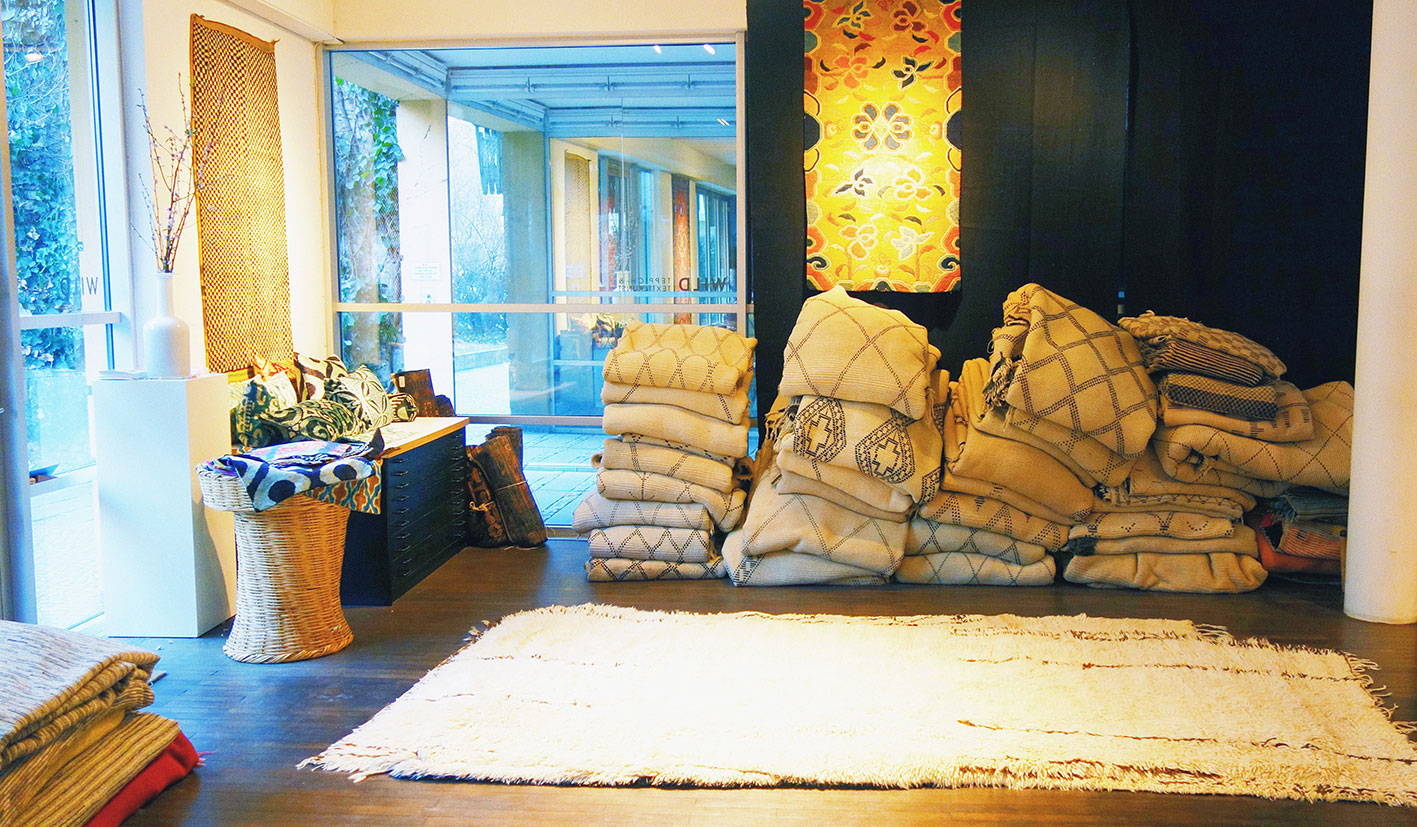 So Berlin was a safe haven for you?
I didn't necessarily want to be a dealer for Tibetika, which would have been difficult to realize with the small collectibles from Tibet. I preferred to become a carpet dealer who could offer a wide range of oriental, authentic and decorative carpets, because I also wanted to give space to my inclination to furnish. I must also have had a desire to settle down after living nomadically for so many years, and so it was obvious to open my shop in Berlin-Mitte. That was in 1998.
Did your interests broaden as a result?
I work in this respect without restriction. Whether its an Anatolian kilim in minimalist style, or a Persian Heriz with a large central medallion, or an Art Deco carpet of Chinese origin with floral decorations, the carpet must please and enrich the respective living situation. Since the mid-90s I've also been interested in Moroccan Berber carpets. These had already found their way into the work of Bauhaus and Scandinavian architects and harmonized with the furnishings of classical modernism. Le Corbusier, Alvar Aalto, Charles and Ray Eames are just three examples.
"These carpets met the taste of my generation in a special way, influenced by the so-called Mid-Century styles."
Why do you think that is?
It's partly due to their 'archaic minimalism', which marks a break with the sober, clear furnishing concept of the Western Europeans. Often it's just about the texture. Within the Berber group there are carpets that strongly correlate with our understanding of art. Artists such as Tal R, for example, see much more in these carpets than I could, since they look at them with a purely artistic eye. Also gallerists such as Nicole Hackert and Bruno Brunnet have discovered these carpets as a collection area. In our Western understanding, the carpet is not an object of art in itself, although it has been part of the Western furnishing culture for centuries. This tension between near and far is repeatedly taken up by artists; Jeppe Hein recently used forty carpets of mine in a performance at the Galerie Johann König in Berlin. I also occasionally develop exhibitions in my rooms on different topics, such as the Afghan war; carpets in whose pictures the current war traumas of the Afghan people are reflected, such as by replacing a Granatapfel design with a pattern of hand ridges. My interest in the deeper meaning of the carpet is an essential reason for my curiosity about them, but this interest is not absolutely necessary to find pleasure in a carpet, if it can develop its decorative power convincingly.
Is there any one carpet that holds a special attraction for you?
The carpet trade has always been a relatively small market segment; it's always been 'Internet' because it could only be operated internationally. In 1993 I purchased a fragment of a carpet in Tibet, fortunately a central part of an original carpet that had been cut up for reasons unknown to me. Two years after purchasing the first fragment, I was able to buy another fragment in Tibet with the same motif, which I thought was a different carpet until I realized it was a second piece of the first one. Two years later I discovered another segment in New York, in a photograph. Two years after that I discovered another section in Kathmandu. The carpet comes from Khotan, an oasis city in the Taklamakan desert, and is extremely rare. Khotan was the Buddhist center of the Silk Road until about the eleventh century, and its carpets reflect influences from the entire Silk Road. I now own seven parts, almost the entire carpet, which I've collected in Asia, Europe and the USA. My special relationship to this piece tells a lot about the carpet trade, and about us traders' associated passion for hunting.